Status: Available Now for Adoption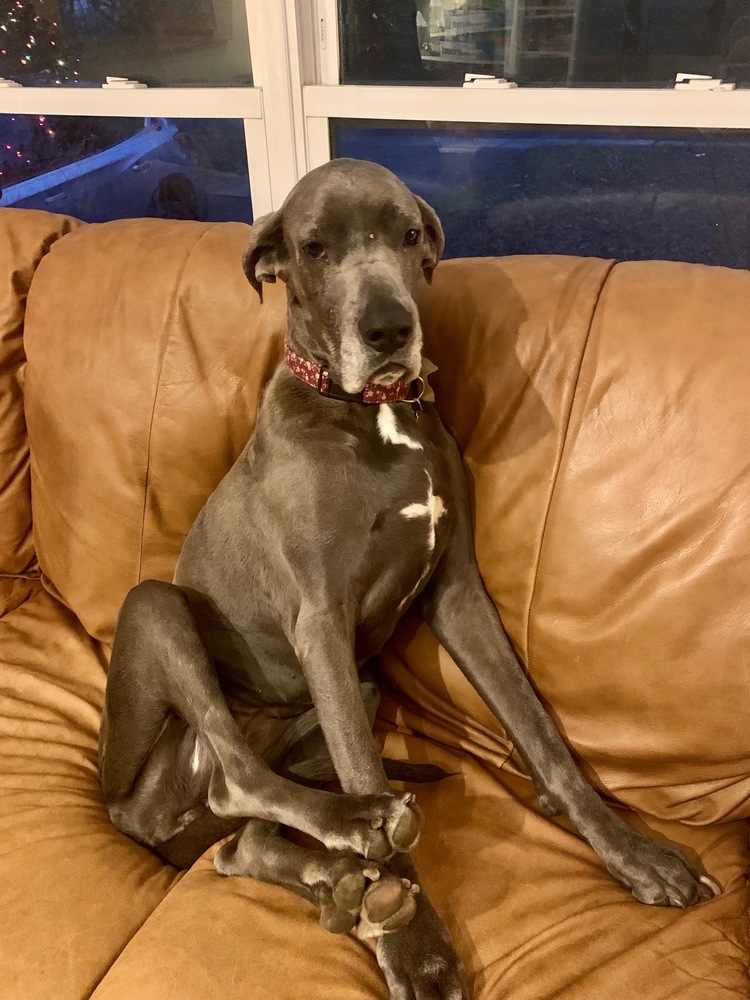 Age: Adult (4 years)
Breed: Great Dane
Sex: Female
Kids: Kid Friendly
Cats: Not Tested
Dogs: Dog Friendly, calm dogs preferred
Fenced Yard: Preferred
Location: Cherry Hill, NJ
Special Needs: Yes, please read Piper's bio 
Housetrained:  Yes
About Piper:  
Piper is an amazing 4 year old Great Dane looking for her furever home!  She is a super sweet, snuggly girl.  She has had a rough start to life, and came into rescue last year.  She went into a foster home who we thought would be her furever, but unfortunately they moved and decided not to take her.  She would love to find a furever family who will commit to loving her furever – she has so much love to give back.  
Read below what her current foster has to say:
Brief description: Piper is one of the sweetest pups we've ever met! She's gentle and loving, and just wants to be near her people. Her huge floppy ears let you know she's listening, and just wait until you see her "I'm about to get a treat" dance!  She will totally steal your heart!
Likes: Snuggling and watching movies, going for walks, watching her people eat ("Is that pizza? I love pizza!")
Dislikes: Having her toenails clipped, overly assertive dogs that won't give her space when she needs it
Personality: laid-back and sweet
Temperament: very chill
Energy level: low energy and easy going
Favorite activities: loves to be outside in the snow, loves going for walks
Good with cats, dogs, and kids (over 6): non-reactive to cats, defers to other dogs, good with older kids
Not good with: pushy dogs who get right up in her face, she does best with calm dogs
Housetrained: yes, though her cues that she needs to go out are subtle
Crate trained: no
Requires a fenced yard. Piper has done well in a large fenced yard at her foster home.
Walks well on a leash? Fantastic on a leash!
Challenges: Piper spent the first four years of her life confined to a crate that was too small and she was unable to stand up. The result was nerve damage in her hips and hind legs. Physical therapy has greatly improved her mobility, and she is now able to walk, climb stairs, and get onto couches without pain. She does move more slowly than other dogs, and will sometimes need assistance getting back up if she falls on her butt. She also needs help getting into the car.  
Any Medical issues? Piper was treated for heartworm, and is now doing very well, heartworm negative. She is altered and up-to-date on shots.
What would be the best kind of home? Piper would love a family who adores her just as she is. She would enjoy the company of another dog, and her perfect match would love watching movies and snuggling under blankets with her. She needs someone to walk a little slower with her, but the reward will be lots of Great Dane hugs (the best!).